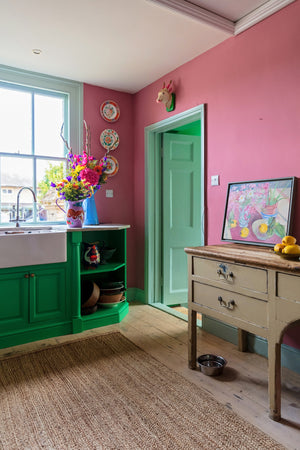 "I've always had a wild imagination. Growing up in a home where beauty and creativity surrounded me, I was meant to do what I am doing today.  I love to create rooms that spark emotion."
Zara has a talent for shaking a cocktail of ideas together and coming out with an aesthetic that's as unexpected as it is fun. Her signature style, which she applies across a diverse range of projects, is best described as vibrant, whimsical and joyous.
Rooted in her upbringing in rural England, it is in part unapologetically old-fashioned - think chintz, scallops and frills - while also calling upon a wide frame of references, from French to Irish (all Zara's family are from Ireland). A self-proclaimed "hunter and gatherer" of antiques and vintage finds, she is also a master at sourcing interesting second-hand pieces."
Maximalist interiors make my heart sing. They are a celebration of everything I love about interior decoration. All the colour, all the pattern and all the joy!"
Zara's striking style and passion for design is woven through Bombay Sprout, with its timeless sensibility, emphasis on quality craftsmanship and never-ending search for the extraordinary and the beautiful.
She also lends her experienced eye to other lifestyle and fashion brands and, in 2016, she launched Mini Maharajas, a Mughal inspired childrenswear range. Never happy to sit still, Zara is always on the move to find inspiration and new ideas.
Zara and the Bombay Sprout team offer a colour consultations and styling for your house.
Please contact us via info@bombaysprout.com