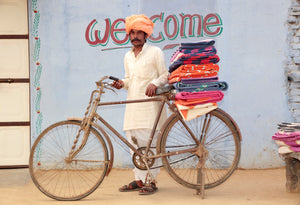 Our rugs are handwoven and the entire process and technique involves over twenty pairs of extremely skilled hands. Our spinners, weavers and dyers have unsurpassed skill in working with each raw material. Creating each rug takes time, with each piece an example of exceptional craftsmanship. There are many processes involved to create one of our rugs. Yarn must first be processed from its natural raw state, to a condition suitable for weaving. It is then 'carded' or combed and is then ready for spinning. While most yarn today is dyed using man-made dyes, as late as the 1800's weavers were using natural sources such as turmeric, madder, walnut and the rind and bark of some plants. These natural dyes fade over the years but with modern methods colours can now stand the test of time. Bombay Sprout continues to work with 7th and 8th generation weavers, and aims to support and help keep this age old tradition alive. Our weavers work on simple looms that consist of two wooden beams and some wooden pegs. This highly skilled traditional craft is untouched by time, the beauty of the weaving remains as it was hundreds of years ago. The final stage is the washing of the rug. This is to clean the rugs but also to enhance the vivid colours. The rugs are then dried in the sun, the final stage in this labour of love.
To check out our range of available rugs available for delivery now click here.
Colour choice
We have narrowed down our colours to a capsule collection of 20, but if you would like to see more we have 1,500 colours to choose from. We can also send you colour tufts to approve.
The Process
For all our BESPOKE order rugs, lead times vary, from 8 to 12 weeks and longer if it is a particularly large or complex rug. If you would like a bespoke rug please contact us and we will be delighted to help. With choices to be made regarding the size, colour and design our in-house design team will ensure a truly bespoke and personal service. You can either make an appointment and come and see us in our showroom in Burnham Market, Norfolk or we can arrange site visits as well. We are also very happy to do Zoom calls as well, if you live far away or abroad.
Email info@bombaysprout.com
Shop the Bespoke Rug Range